3rd Fil-Nor Maritime Conference
In commemoration of the 60th anniversary of the Philippine-Norway relations, a third Filipino-Norwegian Maritime Conference was recently held at the AMOSUP Convention Hall in Intramuros, Manila.
Gracing the event were Ambassador of Norway to the Philippines Ståle Torstein Risa, Ministry of Trade and Industry State Secretary Oyvind Slåke, Royal Norwegian Embassy First Secretary Siri Maria Midré, Norwegian Maritime Officers' Association Managing Director Capt. Hans Sande, NSA Deputy Managing Director Jorgen Vatne and Dr. Andreas K.L. Ugland. From the Philippine delegates were Labor and Employment Secretary Marianito Roque, Transportation and Communication Undersecretary for Maritime Transport Ma. Elena Bautista, Philippine Ports Authority General Manager Atty. Oscar Sevilla and AMOSUP President Capt. Gregorio Oca.
The said conference was also attended by Filipino executives from the Philippine manning industry, the Norwegian shipowners and Norwegian investors of various industries in the country.
It also highlighted the common interest shared by both countries upon which its commercial relations have developed into a strong foundation of cooperation.
The NSA Philippine Project, among other cadet scholarship programs of Norwegian shipowners has provided Filipino young men and women with opportunities for a career at sea.
Norwegian shipowners also build ships in the Philippines like J.J. Ugland and Hoegh Autoliners who have just taken delivery of newbuildings earlier this year from the shipyard of Cebu.
Norwegian enterprises are also engaged in certification and classification, ship management, marine paints and protective coating, navigation instruments and publications, marine consultancy, simulator products for education and training, marine benefits and insurance and ship agency services.
According to Capt. Oca, looking back at this long history, he considers himself as privileged to have been part of this important partnership for the better part of the last 30 or so years.  
"It began at a time when Filipinos were just starting to be recognized as good seafarers equal to those from other countries. Moreover, Norwegian shipowners were among the first to take the chance and started operating their vessels with Filipino crewmembers. They were shipowners like Mr. Andreas Ugland and Mr. Jacob Stolt-Nielsen," said Capt. Oca.
Capt. Oca has acknowledged the critical role played by the Philippine Government, primarily through the Department of Labor and Employment, in helping create the environment conducive for the continued growth and development of this relationship.
"And so today, we have so much to celebrate. The world outside may be in turmoil and this could have negative ramifications for all of us, whether here or in Norway. I am confident, however, that notwithstanding the problems of the rest of the world, the spirit of strong friendship and genuine tripartite cooperation, which have been the foundation of FilNor bilateral relationship, will continue to grow and flourish for many many more years to come.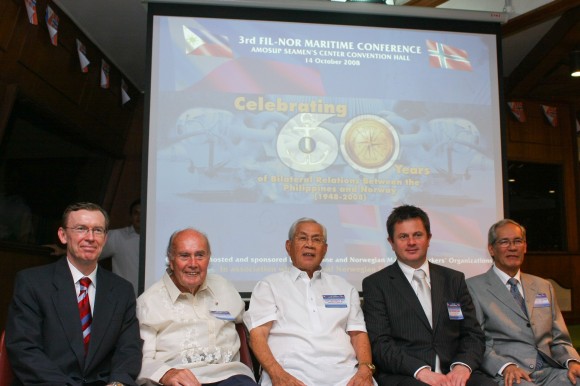 Ministry of Trade and Industry State Secretary Oyvind Slåke said, "The Norwegian Government wishes to concentrate on areas where we are in the lead internationally or have the necessary skills, expertise and know-how to do so. The maritime industries are one such arena. Our vision is "Norway shall be a world leading maritime nation, providing the most innovative and enviromental friendly solutions." The strategy was supported by an extra 16 million USD allocated to research, innovation and measures to improve maritime expertise through maritime education. One important initiative is connected to the change in our tonnage tax system where more than 1 billion USD can be used for investments in environmentally friendly solutions."
He added that, "Norway will continue to be a world-leading maritime nation. However, such a vision cannot be fulfilled without the presence of highly educated seafarers onboard our ships. In this context, the Philippines plays a vital role. Your country is an important contributor to making our vision come true. Almost 50% of foreign seafarers onboard Norwegian ships (NIS, NOR and foreign flagged) are from the Philippines. This is not a coincidence. It is because the Filipino seafarers are well qualified and they have excellent reputations.