20th NASCO Meeting Held in Manila
On its 20th year, the members of the Norwegian and Asian Seafarers' Committee (NASCO) held the meeting in Manila, Philippines at the Mariner's Home last February 25, 2010. The meeting was chaired for the first time by Ms. Jacqueline Smith, President of the Norwegian Seafarer's Union. Co-chairman, Capt. Gregorio S. Oca, was represented by Vadm. Eduardo Ma. R. Santos, Vice-President of the Associated Marine Officers' and Seamen's Union of the Philippines (AMOSUP). The meeting gathered 43 participants from 18 affiliated unions.
The meeting in Manila was opened with the adoption of the agenda that was covered in their 19th meeting in Taipei, Taiwan on February 17, 2009. Thereafter, a discussion of the various agenda was presented by Ms. Smith, starting of with the annual report for 2009 on the FOC campaign in Norway.  Mr. Johan Oyen, Director of NSU, Miami, talked about the ILO MLC of 2006, its port state guidelines and implementation in the CBA's.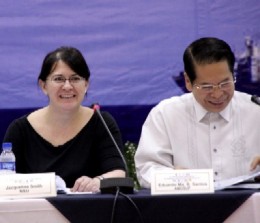 It was followed by the reports on activities regarding the NIS / FOC as well as reports from the SCOCEEN/NASCO in connection to the SCOCEEN meeting held on June 9-10, 2009 in Moscow. The invited guest speaker from Singapore, LTC (NS) Toong Ka Leong from ReCAAP Information Sharing Centre, presented an interesting talk on piracy. This topic brought a lot of  information shared by the participants from the different unions as piracy is continuously posing a huge  dilemma to the global maritime industry.
The last agenda of the meeting was a question from the chair directed to the affiliates on what the future structure/strategy of NASCO. The union affiliates unanimously believe and agreed that NASCO should continue its presence, to continuously promote the close cooperation between and amongst Norwegian and Asian affiliated seafarers' unions in tackling maritime concerns  and in discussing other topics of mutual interest to all.
In line with its yearly tradition, the 20th NASCO Meeting culminated with a dinner reception at the AMOSUP Convention Hall with a very special guest, His Excellency Knut Solem, new Ambassador of Norway to the Philippines. His first attendance to the NASCO dinner, Ambassador Knut Solem delivered a speech on the beginnings of his post. He also emphasized the bilateral relations  between the Philippines and Norway specifically in maritime concerns. He has also furthered the good relationship and cooperation between Norway and the Asian seafarers' unions echoing that this meeting promotes strong solidarity and mutual interest of improving and contributing valuable insights and actions to the betterment of all seafarers' who are members of the various affiliated unions. In honor of the delegates of the meeting, they have also invited Norwegian representatives from local maritime agencies to grace the occasion.